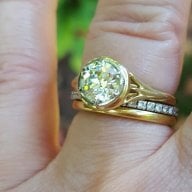 Joined

May 30, 2012
Messages

838
Rhea|1404343554|3705548 said:

NonieMarie|1404248975|3704727 said:

I hope his wife/girlfriend knew her ring was being used to settle a debt.

I didn't see where the OP ever posted their intentions with this ring, if they were keeping it or giving it to a wife or girlfriend. I couldn't even see a mention of the OP having a wife or girlfriend.

I'm also not sure why it'd matter anyhow. The two people involved reached an agreement that worked for them by bartering goods for services. We all do it, perhaps not to blatantly as on this occasion in modern times. I don't see the difference in the OP taking the $200 he was owed and immediately heading out to buy a gold ring. Bartering has been around for a long time and it worked for them!
I was just curious. It was a woman's ring and wouldn't you want to know if your boyfriend/husband used a piece of your jewelry to settle a debt. I am familiar with bartering and there was no need for the exclamation point.