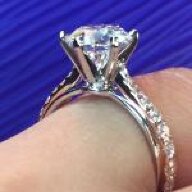 Joined

Apr 27, 2010
Messages

283
Hi all, I've looked around and request several vendors to source for a strand of top peacock Tahitian (baroque). here's the one I like best. Is this consider a top grade? let me know ur views! tks
According to the Tahitian grading:
Size:9.2X11MM to 10.9X13.5MM.
Shape: Baroque.
Body Color: Black.
Overtone: Peacock. Clear green/red.
Luster: Very High. AAA grade. (AAA is the highest grade for luster).
Surface: Very Slightly Blemished. A- grade. (A is the highest grade for surface quality).
Nacre Thickness: Thick.
Matching: Very Good Match.
Origin: Tahiti.