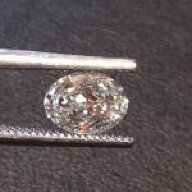 Joined

Jun 9, 2011
Messages

203
My BF and I went to look at stones this evening at a new B and M jeweler in town (he is opposed to going the online route...)
The jeweler showed us some stones. I was a little irritated that I told him I would like to look at ovals, and instead he tried to discourage me from them and kept bringing cushions out. They were beautiful, sure, but still, I wanted to see what I wanted to see.
He also seemed to be like: "here are some stones, do you like?" without talking about what my criteria were first. I'm not super active on this site, but I've been lurking long enough to know that there's a lotttttt more that goes into getting a great stone than that! Turns out I have some priorities, and a budget, etc (BF might have discussed budget with them earlier in the day, but still - $$$ is not everything!)
The thing that really bothered me was I'd ask for the cut grade, and he'd say "it's excellent polish, excellent symmetry." OK, yes, I understand that, but that's different from the CUT grade, right? He told me the only stones that are "ideal" are H and A (RB, not oval, obviously), and I think that that is WRONG. There are lots of stones that meet ideal proportions and have ideal light performance without having perfect hearts and arrows. H and A is different from cut grade, as are symmetry and polish. Or am I wrong? I brought that up to him and he seemed a little flustered, tried to explain that I was wrong, then brought some hearts on fire stones out...
Interestingly, he showed me an SI1 stone he said I wouldn't be able to see any inclusions in. I looked at it from a few inches away and said "no, there's an inclusion in the table." He asked if the bezel would be able to hide it. I said, "no, it's in the TABLE." He said there's not an inclusion there that you can see from the top, only from the pavilion. I said "2 o'clock." He looked under the loupe and said I should be a diamond grader... Honestly, that inclusion wouldn't even bother me, no non-PSer would be able to see it and I don't really have "mind clean" issues - it was tiny, not black, and at the very very edge of the table. But still, I felt like this guy didn't know his stuff... Am I wrong about the cut thing, or is he full of it?