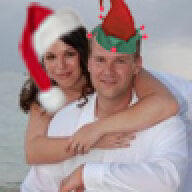 Joined

Jan 8, 2007
Messages

3,962
Hi, I've been a lurker for a while and this is my first post.
I'm not engaged yet, but I'm sure that I will be within the next 6 months or so.
Here's my question:
I have my heart set on the Locke's Signature Setting. I know that they have discontinued it, but I'm hoping I can find someone in my area to duplicate it. On top of that, I'm hoping that I can find a well-cut 1.2-1.35 diamond to dress it up. (I came up with that after trying on a 1ct and a 1.5ct) The problem is money. When my boyfriend and I looked at rings at Robbins Bros. (Don't ask.) The car-salesman...err...jeweler asked my boyfriend his budget, and he said $5000. I'm not sure if that budget is set in stone (haha..no pun.) or if it is flexible. I sort of think he just threw a number out there that sounded good to him. (He is clueless about diamond pricing...and I don't think he had considered his budget before.) Don't get me wrong, I think $5000 is a very GENEROUS chunk of change to spend on my finger, I'm just wondering if I should alter my preferences. Can I find what I want in that price range or am I being unrealistic?
Thanks for any info you have.