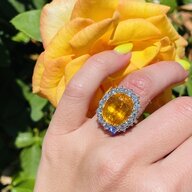 Joined

Mar 15, 2018
Messages

885
Haha title is a joke! I definitely think it is big enough- perhaps a bit to large to be honest. Anyways, feel free to ignore my annoying story and skip to the pics!
I just received this almost 14 ct orange Ceylon sapphire today. It looked like more of a yellow orange in the videos and photos but it's very orange in hand. In all honesty I got very little play time today but I will have a much better window of time to assess it tomorrow. I want to decide whether I'm keeping it or not asap so I can get it out to GIA. According to the vendor it is heat only no diffusion but I definitely want GIA confirmation that it isn't diffused. I plan to set it in a halo of OEC diamonds. I was originally looking for around 5 cts when this caught my eye.
The positive:
-it's massive!
-It knocked my socks off the second I opened it!
-I don't feel that it needs to be recut. I was expecting to have to recut it but the cut looks fine in my eyes.
-The color makes me happy
- I love the glow (it is slightly silky)
The negative:
The only negative is that it does have eye visible inclusions. You can see the inclusions in my zoomed in pictures. I actually didn't notice the inclusions until I was looking back at my photos. They are visible in my zoomed in photos but are difficult to spot irl. They are almost impossible to spot in indoor lighting and honestly you really have to be looking for them super close up when looking with your naked eye in any lighting I've observed so far. I knew that there was an inclusion in pavilion but I wasn't expecting these few face up. The vendor said it was eye clean. I don't disagree with them as it definitely is unless you have eagle eyes. They were not visible in the videos. No one would ever notice them irl unless they are actively looking for them but there are there. I have to decide if I can be ok with it or if I'd rather have a more flawless but smaller stone.
My thoughts right now are that I absolutely love the stone! The inclusions do bother me a slight bit because I wasn't expecting them. I'm really having a lot of trouble researching prices right now because they seem to be all over the place. When I originally purchased I thought I got a great deal but after a night of overthinking I thought maybe if I search direct sources or even find something that needs to be re-cut on eBay maybe i can find a similar sized stone at a better deal. I honestly do feel an instant attachment to the stone and can't imagine sending it back. I'm sure my decision will be solidified after I play with it tomorrow. Right now I'm 90 percent on keeping it.