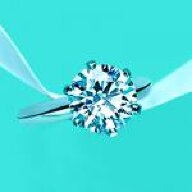 Joined

Apr 18, 2009
Messages

145
Hi all,
I am new to this forum but i love all the pics posted here. I really enjoy reading them a lot.

I have an E ring: 1.4ct H/VS1 in a normal 4 prong setting...
I bought a new setting, i have not mount my diamond yet but after reading some post and articles. i realise that thinner bands can actually enhance the aesthetic look of the stone.
The new setting specs are:
2 side stones 0.36 ct
microsetting of 15 small 0.01ct diamonds at each sides (total 30).
I wonder if the band is too thick...Will my diamond look off? My ring is sent for resizing from size 7 to 4
here are the pics, please comment. thanks. (sorry i didnt clean my diamond, can see strands of fibre all around)