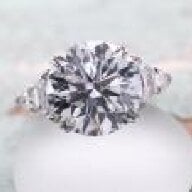 Joined

Sep 18, 2015
Messages

165
Hi all, my sister is in the market for a 3 carat pear diamond for her engagement ring and she's stumped me because I know nothing about pears.
Her budget including setting is about $28K. She wants to set the pear in rose gold with side baguettes. She would really like to get to the 3 carat mark if possible on her budget.
She has been offered this same diamond that's shown on
blue nile
here:
http://www.bluenile.com/diamond-search?stockno=LD06192979
A NYC diamond district vendor offered her this stone, WITH setting, for $29 K (despite
BN
list price for stone alone of almost $32K). I told her something seems fishy there.
If there are any pear experts out there, could you weigh in on this stone? We are trying to get pictures - she hasn't been to see it yet. (When she tried to make an appointment with the diamond district vendor, it mysteriously went out of town for the weekend.)
Other suggestions for great pears in her budget would be appreciated, too!
Edited: In case the
BN
stone won't load, the cert is here:
http://www.gia.edu/cs/Satellite?rep...ename=GIA/Dispatcher&c=Page&cid=1355954554547