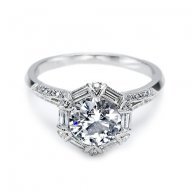 Joined

Dec 8, 2002
Messages

28
Hi you guys-
I've been reading your site extensively, and all of a sudden, a seemingly really good deal dropped in my lap. I was looking for a well cut emerald cut diamond, which I know is hard to find. Some guy was selling an engagement ring he never used on ebay but it didn't fetch his asking price($4000), so I talked him down to $3000. That's $3000 TOTAL, not per carat. Look, I know you've heard ebay horror stories, and I've seen one play out before me (saw a diamond and thought, that is an IMPOSSIBLE deal, and it was- they were all ripped off). However, this seller seems for real, and he has over 500 positive feeback (although he's not a diamond seller- he sells and buys mostly nostalgia stuff...Seems like an ordinary guy who honestly didn't get married) Here are the specs:
Certification: GIA
Cut: Emerald
Carat: 1.53
Dimensions: 7.62X5.85X3.61 (approx 1.30:1 ratio)
Color: H
Clarity: VS2 (the clarity diagram shows small inclusions to the side, something I think won't be worrysome when set)
Depth: 61.7%
Table: 62%
Girdle: Very Thin to Thin
Polish: Very Good
Symmetry: Very Good
Now, here's what I know. According to AGL, this is an IDEAL cut (with depth and table), although the very thin to thin girdle isn't ideal. Also, it's not good to not have the crown and pavillion angles, but that's not on the GIA cert. I also know that 1.3:1 is a little square, but that's the ratio I was looking for- I like them a little fatter.
Given all of this, I think it is a fantastic buy. What is your opinion?