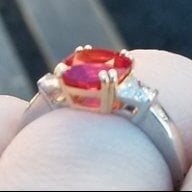 Joined

Nov 3, 2009
Messages

7,589
Simple question. All vendors' pictures, all PS-ers pictures simply can not fully represent the stone, because of its fluorescence which gives it the glow. Maybe there is a wonderful stone which is orange-red, maybe there is a great stone which is mostly pink but very saturated, perfect stones do not necessarily have colors that are "by the book". But the more I look at the pictures, the more I realize that I have no clue what a good stone is. My jeweler saw my first 1.6 ct Mahenge which I bought from Tan and said it was a very good stone, but it was 1.64 ct and as such, more reddish-pink although now I see what my jeweler means. But the stone is small, and top colors usually come in larger sizes.

So here is the question. Is there any "perfect" stone in any US museum? Or are they so new that they all go to private collections?

Does Smithsonian have them?