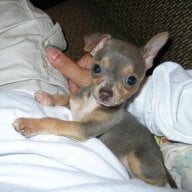 Joined

Dec 16, 2007
Messages

5,184
Even days later, I am still shocked.

As more details emerge, it sounds like he beat on her really really badly..on article I read claimed that she appeared to have "horns" and was coverned in bite marks, bruises, suffered a broken nose and split lip. That''s serious.

Chris Brown never, ever struck me as the type that would be violent, and of course I don''t "know/know" him...but even people that were involved closely with him said he "wasn''t the type..."

However, there have been rummblings that not only is done professionally since most the big producers watch over Rihanna like a little sister...but some of the more connected figures are "gunning" for him as well....