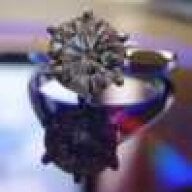 Joined

May 27, 2008
Messages

5,455
I found a diamond online that I''m VERY interested in getting to wear in a pendant. It''s specs are
57 table
61.1 depth
34.1 CA
40.9 PA
and it is graded AGS 0 for light performance and proportions. The company doesn''t give
Idealscope
or ASET images, but they have a 30 day return policy and a trade-up policy.
I''m figuring given it''s great HCA score (1.3) and the fact that it''s AGS Ideal with Ideal polish and symmetry as well, that it''l will be great for a pendant. I''m not looking for a hearts and arrows or anything since I won''t get to admire them on my neck anyway.

Can I really go wrong with an AGS0 and a 30 day return policy? I know that it''s always best to get these iamges, but the price on this stone is pretty low and I''m thinking it can''t be THAT much of a gamble anyway. Thoughts?
Thanks in advance for any opinions