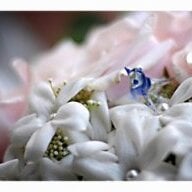 Joined

Oct 12, 2006
Messages

527
Hi Ladies...
Ok.. so I am beginning to stress.. SERIOUSLY STRESS... to make a long story short... My FI best man''s girlfriend (man that was a mouthful) is an invitation designer.. and offered to do our invitations for our wedding... Well two weeks ago.. they split (yikes) and now the awful truth has come out... (way longer story) and now FI does not want to give her our business... (which I respect!!)...

Now.. I am four months out from the wedding.. and scared crazy.. because we NEVER researched any other option...

I need help ladies.. if any of you have ideas for invitations.. very contempory and modern... I would be eternally grateful...

Thank you all in advance.. I need all the help I can get!