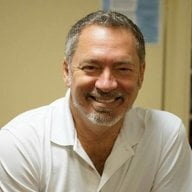 Joined

Mar 28, 2001
Messages

6,324
An exciting new cut for those who are as frustrated as I am in finding beautifully cut square modified brilliants. It's all here brought to you by your friendly neighborhood Rhino.


With the growing frustration in finding princess or radiant cut diamonds with superior optics one company has heeded the call regarding modified squares with a brand new cut called the Queen of Hearts. WE ARE VERY EXCITED to be able to present to you it's first Internet introduction along with my no compromise analysis of it's cut from soup to nuts.

A first look at this diamonds AGS Report reveals a modified square with "ideal" symmetry & "excellent" polish. A feat that is not easily found among the world of fancies. AGS did a good job of the wire frame outlay concerning the facet arrangement of the stone in that the diamond has 8 pavilion main facets (like a round) which is coupled with a crown cut very similar to a radiant.

Here are the proportions of this beauty which when you look at the crown/pavilion angles and total depth ARE EXTREMELY similar to that of a round!!!

33.3° crown angles with 40.9° pavilion angles tell us something good right from the start concerning crown/pavilion relationships. The 73% table had us concerned but when we take into account this is a super alternative to the radiant cut, radiant cuts generally all have larger table surfaces (responsible for more external reflected light) and it's crown is purposely cut in this manner and for this reason. In radiant cuts however the crown/pavilion/table relationship generally results in a watery looking, terribly leaking diamond with very little fire or light return. A 62.5% depth on a square usually equals a stone that is too shallow too but wait!!!

Internal reflections reveal very minimal leakage with an excellent amount of dark reds/blacks and while the stone is not cut to have an Arrows image in the face up view there is a beautiful optical symmetry to the stone that you will not find in radiants or even princess cuts. MAGNIFICIENT! In this case the 62.5% depth ADDS TO THE POSITIVE BENEFITS of this diamond in that this bad boy will look as large as it's round counterpart!!!

Below is a .926ct QOH next to a .936ct H&A round.

Here are it's BrillianceScope results which are OUTSTANDING!!! (Keep in mind that fancy shapes rarely get any factor in the "Very High" zone). You can also see a beautiful face up optical symmetry in light view 6 (the diffuse light condition).

Last but not least here is where the stone got it's name...
Under the H&A viewer a beautiful display of Hearts! In the face up position a beautiful optical symmetry that is only
rivaled by the Regent.Cut.


Princess/Radiant cuts have more than met their match as the Queen of Hearts stands as one of the top contenders in square modified brilliant cuts today.