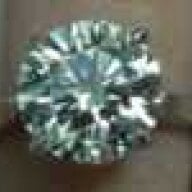 Joined

Nov 28, 2007
Messages

112
Hello everyone,

I found this board a few years ago and have lurked ever since. I have learned so much from all of you but oftentimes felt too unknowledgeable to participate. But, I feel like I''m finally ready to make a contribution. I got engaged a few weeks ago with this beautiful ring. Both the stone and setting are from Mark at Engagement Rings Direct. He was wonderful to work with, and I have a few more projects in the pipeline for which I will be returning to him in the near future.

Now, without further ado, here are the specs:

3.51
J (I can hardly detect any warmth)
SI1 (eye clean)
GIA Excellent
Table: 55%
Depth: 61.9%
Crown: 34 degrees
Pavilion: 40.8 degrees
Medium flourescence

I honestly could never have imagined that the stone would sparkle this much. It sparkles outside so much more than it did in Mark''s office, despite the fact that it sparkled so much just in his office! Unfortunately I haven''t had a chance to take any pictures outside, but I didn''t want to hold out on posting any longer. Thus, for now, I can only post pictures from inside.