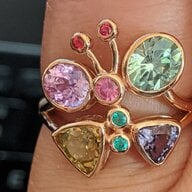 Joined

May 13, 2018
Messages

3,974
Part 1 of the story.
Sometime in 2019, I can't remember the exact date, but perhaps in August or September or October, I saw the following gem listed for sale at Cecile Raley Designs. It's the old stock vivid red spinel color, Yvonne said. I thought it was a tad on the expensive side, but I kept coming back to it. The color was so vibrant and intense-looking, it set my heart all aflutter. By the time I made an offer, it was already sold.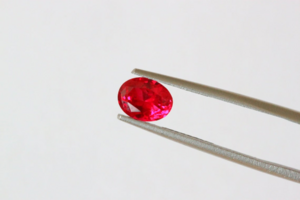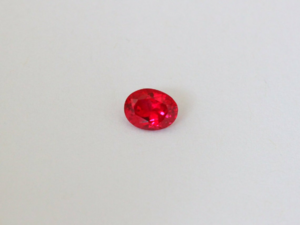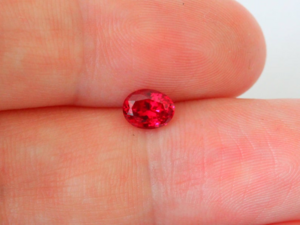 Fast forward to February 2020. I was visiting my fiance in Toronto for Valentine's Day weekend. And while checking LoupeTroop completely routinely
what should catch my attention but this exact same stone I had loved but failed to find a replacement for? The owner was on the fence about how to set it or whether she should sell it to free up money for a blue sapphire, if I recall correctly. I was sure I wanted to use 5 lavender sapphire melee and 5 mint garnet melee in an alternating pattern to set this Mahenge spinel in a camellia design. I already had another 7x5 red Mahenge spinel in mind for the project, but this one was much better with the color and the cut that I had to have it, and I convinced the owner to let me have it.
Here's the layout in the sticky gel lid gem tray. The very outer layer comprises 10 1mm unheated Tanzanian ruby; I had bought a lot of 30 and sorted them myself based on color saturation. The pinker ones appeared in my mint garnet center round camellia ring in yellow gold, and match the Vietnamese hot pink unheated sapphires in that camellia ring very well. I used 10 of the redder ones here for this ring. The remaining red unheated 1mm rubies are going to Enhoerning Jewelry for another long-awaited project. I just have to be able to pay off my ongoing jewelry projects before starting any more.