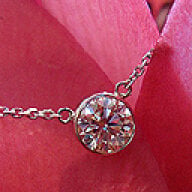 Joined

Oct 30, 2002
Messages

31,003
oh my goodness, blues are SO HARD. i have first hand experience, hehee.

when we moved into our place...the model home for our unit in the master bedroom had the prettiest color in the world ever. EVER. i loved it. it was like the perfect soft romantic blue gray with a slight touch of lavendar but really just a super soft blue gray. i wanted it. no one knew what it was.

so when we bought our house, i had the painters go look at it and tell me what they thought. of course they had no idea. so they put up like 5 colors that we thought might be close on the wall. all wrong. but at that point we had to get painted, so i chose the one that seemed most like it. okay big swatch on the wall NOT CLOSE to what it looks like when a 15x18 room is actually painted in it. it was soooooo blue, a softish blue but still very sky blueish. i was totally overwhelmed. greg was upset because we had paid to have it done and i didn't like it. he said lets just keep it and see what we think.

well ff a bit of time and i actually got used to the color...and it looks different in various lighting and it actually looked really awesome once we got some super dark mahogany furniture in there too and accented with crisp whites. but man i still remember that color in the model home, it was so pretty.

the funniest and most ironic part is that after we had the house painted and were actually moving in, one of the employees of the builder came by to do some touchups/fix a few things that were still unfinished and i was telling him the saga of the paint in the master bedroom...and he said 'oh you should have told me...i loved that color too and i had the painter give me all their extra cans which is like TEN of them and i just have them sitting in my garage. i would have given it to you'. i was like 'ARE YOU KIDDING ME!!?!?!?' argh! and i asked him the color and he told me and i forgot it. i think it was Behr...and it was something soft sounding like 'gray skies' or something. DOH. and now it's been like 3 years so who knows where he is. and he'd think i was retarded if i tried to find him to ask him the paint color i'm sure, haha.