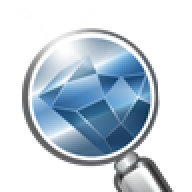 Joined

Dec 31, 1999
Messages

8,266
Here are two stones were posted today on Pricescope auction by
Whiteflash
.
and
Since there were many requests for Ideal-Scope and DiamCalc simulations I decided to take a closer look at the information provided.
Whiteflash
did a good job by getting 3D Sarin scan for these diamonds and importing it into DiamCalc. Unlike ordinary Sarin report with average crown and pavilion angles, 3D Sarin scans comprise measurements of
each
diamond facet and hence give better presentation of a diamond.
) to generate diamond pictures with different lighting including Ideal-Scope. We are also able to create a movie with tilting diamond. Plus, we are able to run the cut evaluation for these diamonds to estimate light return, light leakage and contrast (important feature for human perception of brilliance and scintillation).
What is interesting about these diamonds is that they are not cut to ideal proportions according to AGS grading system. They are falling in AGS grades 5 and 6 because of the shallow crowns: 30.5°.
Now if we'd look at the ideal-scope pictures, we'll see virtually no light leakage.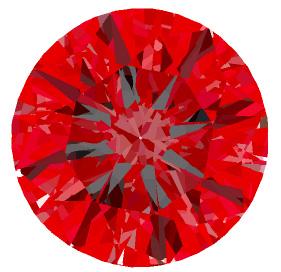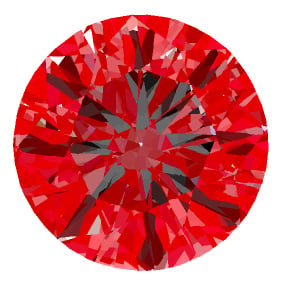 ).
Light Leakage
calculation for these diamonds is significantly better than any traditional ideal cut diamonds: 1.11 and 1.26.
Contrast
: 0.94 and 0.87 which is fairly good.
: 0.3 and 0.5
. They look larger for their carat weight. E.g. 1.08 carat stone has 6.78 mm diameter. For comparison, Tolkowsky cut diamond of the same weight will have 6.62mm diameter, steep/deep AGS0 - 6.57mm.
Finally, the price of these diamonds is $1,000 less than similar AGS0 diamonds.
Conclusion. This sort of diamonds can be a good option for those who doesn't want to pay extra $1000 (20%) for AGS-ideal cut but still want to get a nice stone.
[/u][/u][/u][/u][/u][/u][/u][/u][/u]