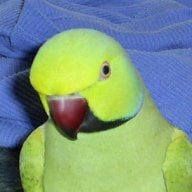 Joined

Jul 14, 2006
Messages

2,037
Since I am going to ship my stone and reset it I consulted Jewelers Mutal about insurance. Very nice people there.
But I have a big problem: I paid about 25K for this 2.27 F, SI1 GIA ex/ex/ex ring and plat setting. I got it from
Blue Nile
and it came with an appraisal at 37K. So if I insure it I have to pay a premium based on 37K. Well, that costs a lot more money!
But the stone is not worth 37K! It is only worth what I paid for it and I know very well that I can replace it for a similar price. Heck for 37K I sure wouldn''t have this stone - I''d have a much bigger one.
So I called
Blue Nile
and told them I want a new appraisal cause theirs is very overinflated and they would not budge one inch. They say this is the "retail replacement cost". But I know, as we *all* know, that is is bogus and even at a brick and mortar store I would never, every pay this much for a similar ring.
It is really a rip off cause I would have to pay a big premium and if I lost the ring they would not give me a check for 37K, all they would give me is a "similar like kind" ring to what I lost.
I think I need to hire my own appraiser to give a more realistic estimate of value. My question is: will I run into this exact same thing or can I show the appraiser my documents/purchase price and get an appraisal close to the real cost of replacing this ring?