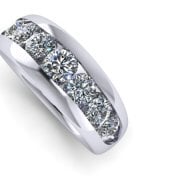 Joined

Dec 28, 2005
Messages

4,097
Happy Friday Everyone,

I had believed that I had purchased insurance for our rings over 2 months ago. Imagine my surprise when my agent returned my money and informed me the company they had bought the insurance from would no longer be insuring jewelry.

Being a bit aggravated about not having the coverage I believe I had, I asked my jeweler if they had any recommendations and they referred me to a company called GemShield. They evidently only recently began insuring private owners jewelry. Their rates are reasonable, from what I was previsously quoted. The only issue I see is that if anything ever happens to our rings, they don''t just send you a check, they work with a participating jeweler (the jeweler who custom made our rings is a participating jeweler) and have that jeweler replace them with the same quality, or we can upgrade at that time if we so choose and pay the additional cost out of pocket.

So, my question. Has anyone had any experience with GemShield and does what they''re offering seem reasonable? BTW.......they charge 1.50 per $100 worth of coverage and you choose the amount of coverage you want. i.e., while they require copies of the appraisals, they don''t require you insure at the appraised value. In my case, since I think the appraised value is much higher than the true replacement value, I won''t insure at that level.

Finally, since many on the forum have had issues finding insurance for loose stones, I inquired if they offer loose stone coverage, but they do not. They only provide coverage after a stone has been set and the piece of jewelry has been appraised. I did ask why and they said it''s because the chances of something happening to loose diamonds before being set are higher and most insurers don''t want to accept risk until the stone is set.

Anway, please let me know what you think. I hate knowing we''re walking around with these really expensive rings and we have no insurance.

Thanks everyone...........