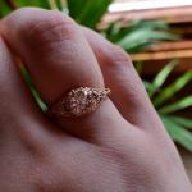 Joined

Mar 15, 2015
Messages

24
About a year ago Pricescope folks helped point me in the direction of a nice .67 ct L VS2 OEC stone from Diamondzone. I had it sent to me in a thin, temporary rose gold setting that they had available. It was going to be used to replace my amethyst wedding ring, but sentimentality won out, and the diamond has become a right hand ring for me. It has been a great little diamond and I'm super happy with how bright this stone faces up even with the lower body color. The setting it came in hasn't fared as well though. The prongs catch everything in sight and the stone is shifting around and now lies crooked in the mount. I've also grown REALLY tired of the rose gold.

My amethyst wedding ring was made by a goldsmith friend of my husband's so I went back to her to create a new setting for the diamond. I brought in other loose stones I had as well, just to see what she might come up with. She used my diamond (~5.6mm) and another 8mm round and drew a stylized 'M' using the 2 stones (my maiden name, new last name, husband's name, and 3 of my kids' names all begin with M). The metal wraps around the stones so they end up being about 2/3 bezel set and would have a small fish tail-esque prong on the open side. Since it is a more modern look and the stones are OEC she said she could add some milgrain to give a nod to the vintage cut of the stones. I loved the idea of using the 2 odd sized stones together and creating something that wasn't so engagement-y. I'm not sure I'm sold on the M design though. She's carving up a quick wax for me, but I wanted to do some more homework before committing 100%.

Has anyone seen any 2 stone rings with stones that aren't the same size or that aren't the usual bypass style? I see tons of the vintage and bypass style rings but virtually all have same sized stones.

Thanks!