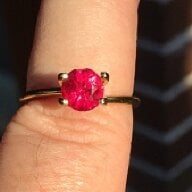 Joined

Dec 3, 2008
Messages

941
I think I am buying this amethyst. Will I be able to find an inexpensive sterling silver stock setting for it? I thought I would ask here since you folks are so good at finding inexpensive settings.

It's 11.8 x 9.8 x 6.9 mm. I'm wondering if I could find a 12 x 10 setting for it or if the size being slightly off and the shape being unusual would be a problem.


Edit - Oops, I meant to put this in the Fabulous Fashion Jewelry forum. I've asked for it to be moved.