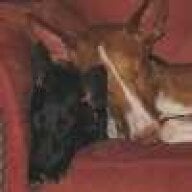 Joined

Dec 8, 2005
Messages

1,862
Alright...so as some of you may remember, I got my ering in December of 05. vvs2 I - asscher. LOVE it.

So a few months ago, after studying it from every angle and under every light for nearly a year, I noticed what I thought was an inclusion on it - that is totally invisible when looking at the stone from the top, but is visible if I hold it in a certain way and look at it from the side.

So, at first I was a bit miffed. I didn''t like that I could see this brownish colored inclusion from the side. Then I thought maybe it was just dirt of some kind. So I Ultrasonic-ed it and I scrubbed away at it. Still there.

Two weeks ago, one of the stones fell out of my pave halo. Took it back to our jeweler. He fixed it no charge, polished the platinum, yada yada yada. And he must have cleaned the ring too.

Because the "inclusion" is gone. Gone. I''ve looked at it in every light. and from every angle.

Anyone else ever had anything like this happen?