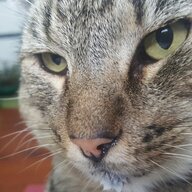 Joined

Apr 30, 2019
Messages

3,292
It's very satisfying ordering online especially at a discount (and using Rakuten to get cash back too) and getting it within a day or two. And the anticipation is exciting too I agree. Definitely easier than going to the store. Though occasionally I like shopping in person to feel and touch and try on what I am interested in...case in point I just bought a faux fur blue short jacket and without seeing it and trying it on in the store I wouldn't know I love it. I didn't even know I wanted something like this. Aka impulse purchase on my part. But it's so soft and fun and easy to wear. Not warm however. LOL.

Sweater weather is here

@Asscherhalo_lover

, enjoy your new sweaters and keep warm and cozy!
im so glad you brought it missy
its such a lovelly colour and will be warm and cozy - but more importantly if anyone deserved to give them selves a little treat its you
plus its so practicle.......