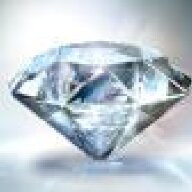 Joined

Dec 1, 2015
Messages

21
Hi guys,
I'm about to buy a diamond.. After 9m of heart-ache and research I'm stuck on two choices.
Both 2.35 I's.
1.
http://www.bluenile.com/au/build-your-own-ring/diamond-details/LD06308993
HCA Score 1.3
IdealScope
ASET and image available here
https://goo.gl/cjPJf9
Diamond photo here:
https://goo.gl/MEf5VF
Certificate:
http://goo.gl/kar62y
2.
https://enchanteddiamonds.com/diamonds/view/Round/GIA-Certified-2-35-Carat-I-Color-VS2-Clarity-Diamond-ATS9Q6
HCA Score 0.9
Image and Video and Cert available (in link above) but NO
IdealScope
or ASET.
Certificate:
https://goo.gl/B8DC24
I'm so torn- cos I really thought the
Bluenile
one was amazing, but I have a video for the enchanted diamond one and it's got a better HCA score. It looks "white" in the video and sparkly. The only concern is the inclusions. As you can see, it's a VS2 and I'm worried about the clouds on the table.. Especially given the "big" dotted lines. I'm being told it's eye clean, but I wanted to pick your expert brains on which you guys would think would be the better purchase.
The problem with the Enchanted one is the vendor has NO other imagery; no
idealScope
, no ASET- So I can't trust it's light return... I'd be going solely off the HCA score and video.. :/
I don't want to pay extra for something I can't see (with the
Bluenile
being VVS2), but I do have the
IdealScope
and ASET for the
BlueNile
, and as far as I can see (correct me if I'm mistaken) It looks like a good buy? Do i skip the VS2 in Enchanted? Cos it does have a better HCA score.. Would it not be worth the chance it's not eye clean? or Milky??
Please please help guys.. Any advice would be appreciated.
Cheers
Charlie.