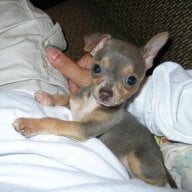 Joined

Dec 16, 2007
Messages

5,184
When I got engaged, my husband and I designed a really lovely e-ring and matching wedding band...and, I still love it...it still means a lot to me, and I'm very proud of it. But the design has a few issues...like the diamond being set up really high and catching on things...the ATM almost ate my ring the other day. But, I could live like that and have for over 3.5 years. However, like so many of us here on PS, I've gotten the "remodel" bug...and my DH (God love him) is totally supportive with one cavet that I use my original stones which I have plenty of.

I have one 2+ carat princess cut and an additional 24 1o pointer princess cuts. I have very short fingers, small hands and my knuckle to knuckle range is pretty tiny.

Intially I thought halo, halo, halo...but they don't look so great on my finger. So, I'm been thinking and now I do believe I want to keep it more timeless then trendy...but I do want to keep my contempory edge.

So, PS friends, here is my question...all things being equal, which would you prefer?

1. A moderately thick solitaire setting (rocker bottom) with a full eternity band of 10 pointers (uternity style)

2. A thin solitaire setting (rocker bottom) with two 3/4 eternity bands of 10 pointers (uternity style)

ETA: ignore the poll, did that on accident. thanks.