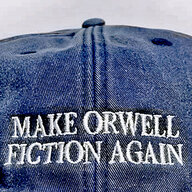 Joined

Apr 30, 2005
Messages

32,806
I have a friend I play guitar with.
Let's call him Zanzapuss (from a Louis CK skit).
We are into the geeky equipment side of it, and recording, as much as the music itself.
Zanzapuss is stronger on electric and I'm stronger on acoustic so there's mutual teaching and learning in this very gratifying musical relationship.
Zanzapuss knows I don't text, so it's been phone, voicemail, or email.
Recently he's been getting really slow to answer those, if at all.
Saturday he told me why.
Texting is his preferred technology.
He explained all the ways texting is superior, all of which I already knew and don't need to repeat here ... yet I'm sure 212,457 posters will now point them out.
Zanzapuss did not give me an ultimatum, as in learn to text or bye bye.
He just brought it up to explain not responding to email and voicemail messages of mine.
Though I stopped short of apologizing, I admitted that I'm a luddite and am well-aware if you want to be friends with anyone under 30 you MUST text.
BTW, he's 43 and I'm in my 50s, but I look like I'm 18.


So I'm considering learning to text.
I'm really 50 50.
I don't know what I'll do.
I really value the friendship, which might be at risk.
What'r your thoughts.
You could argue Kenny should text because he wants the friendship and not keeping up with technology is not a choice.
You could equally argue Zanzapuss should use email and voicemail he he values the friendship.
Are texters lazy and spoiled?
I mean, they can't spare 15 seconds and pressing a few buttons to hear a voice message?
Others have asked me to learn because they prefer texting but they've always been fine with email and voicemail.