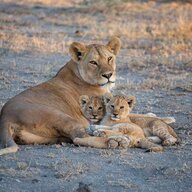 Joined

Dec 16, 2017
Messages

998
I know this seller has been mentioned before as a source for some beautiful stones. He has only accepted wire transfers so far, which can cause a ton of concern and hand wringing when conducting business overseas. I took the plunge and bought an unheated 3+ ct blue sapphire, crossing everything that this was a legit seller. It arrived and was gorgeous! It came with a Ceylon Lab cert, but I didn't know if it was worth the paper it was printed on, even though other sellers use that lab. I sent the stone to AGL for a Brief. Meanwhile, seller messages me about an unheated 8+ yellow sapphire, making an irresistible offer. Again, "please be unheated. Please be unheated." I was still a bit nervous given BE in yellows. Was the blue a on-off to entice me to buy treated stones in the future? I just didn't know how it would turn out, but upon arrival I found it was unbelevafreakingly gorgeous! He also showed me a heated pink sapphire that melted my heart because I had previously inquired about one. OK. Now I've sent thousands overseas to a guy who seems really nice with incredible stones. Am I a sucker, or is this legit? How would I recoup my funds if they were junk?
I sent the yellow and pink to GIA because they can test in-house for BE, while AGL can't. The yellow: unheated; pink, heat only and even a bit larger than he said! The pink sapphire is the most gorgeous pink I've seen. I'm in love with it!
Bottom line, CeylonSapphire has been an excellent, honest seller. I just wanted you all to know my experience because we all tend to be wary when it comes to large purchases and watching our money go to some stranger for who-knows-what. I will be buying again from him- definitely. I would sell my soul for another pink that is 5+ cts.
And no, I don't know what I'll do with them, but it will be fabulous!