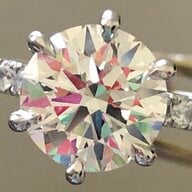 Joined

Jun 11, 2020
Messages

202
Hi folks, MMDs are generally not allowed in Rockytalky. Please report threads if you see them and we will remove them. We do occasionally allow it if for example the question is about a ring setting, and the photo of the example happens to have a MMD in it. That is at our discretion.

For now, we have not been excluding them explicitly from SMTB as long as the focus is on the beautiful ring being showcased and not a discussion on MMD. If a thread turns into a discussion about MMDs, etc. it will be moved. This is also at our discretion.

I cannot promise that this is how things will stay in the future, but for now this is where we are.
Awesome, that's great news! Thanks