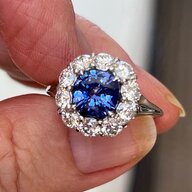 Joined

Aug 18, 2013
Messages

7,398
So,
@pearaffair
's wonderful thread about being content with what she has sparked some interesting comments and thought processes. Most fascinating of all, in my opinion, was
@diamondhoarder
's post, where she wondered, were she to lose all her jewelry and be given a lump sum, what, exactly, would she buy second time around?
So that's my question in this thread: if you lost ALL your jewelry somehow, were given the equivalent amount in cash, would you buy it all again? Some of it? A bit of it? Or would you blow the whole lot and buy a villa in Tuscany? A Porsche? Put it towards retirement? Pay off debt? Put your kids through college? Alternately, does the size of the amount make a difference? If you were to be given a check for $5k, would you spend that on jewelry, but, if you were given a check for $100k, would you feel compelled to do something more responsible? Does amount equal opportunity?
And now, knowing you might do something different if you had the $$, are you tempted to *really* empty out the jewelry stores, and go a different direction?
It will be fascinating to hear from PSers on this topic.