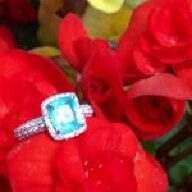 Joined

Oct 4, 2016
Messages

1,091
Is it an Alex?
Or a neon Paraiba?
How about a Pigeon's Blood Ruby,
If not a Kashmir Sapphire?
Perhaps, you're one who prefers the hot pink ones?
Is the Golconda Diamond your ultimate wish?
Or the fancy colored ones?
Maybe you'd like a Jedi Spinel?
Or a Tanzanite, perhaps?
How about a crystal Colombian Emerald?
Or the elusive Padparadscha?
Will you want what the orient covets,
Like an Imperial Jade?
Or a Golden Pearl?
Does the dramatic flashes of an opal dazzle you?
Or maybe the color of Tsavorite reminds you of spring?

Whatever it is, I'd like to know what your heart desires.