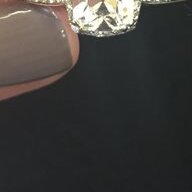 Joined

Feb 15, 2015
Messages

147
Hello PS

a little background....purchased preloved ring from a PSer - Laila69 - hope you see this! and the ring just didn't fit the way I wanted, a little too tight, a little too much metal and I thought the diamonds were a little hidden, so to speak.
so two visits to
ID Jewelry
and speaking to Yekuteil, Shulamit, Joey and today, Jade - I asked them to make me a totally new settting. I had been pining for a u-prong, so I went for it! they are really great!! I believe Israel, the Father, made my ring. Saw him today, such a nice person!!
this is just to wear on my right hand for now, and I do like the way it looks with my E-ring, a good pointer size....
9 stone, 7 pointers, .65ct, WG, F/G SI "Pricescope" quality stones.
bright and sparkly!
***currently harboring a fantasy about the Tiffany & Co. shared setting .56, 7 stone wedding band. I really, really wamted a Tiffany classic solitaire for my engagement ring, but of course when I looked at what I would get for the money, I had to walk away....sadly!
So DF said I can get the wedding band, and tried it on, drank the Tiffany Kool-Aid, and fell totally in love!!!

I love the profile against my ring (will post pics) and it is really low-set as everyone knows....just gorgeous...

DiamondSeeker - if you see this, I also tried on the Legacy, which is GORGEOUS, as you know being a lucky owner
and it looks really nice against my ring and a strong contender - If i could, I would get both!! hahaha.....I will post some pics....but it is a little dainty for my hands.....(my hands used to be so nice, I am getting a complex!!)
so I have time to mull all that over and change my mind a few times.....so I have a pretty little ring to wear on my right hand for now
i def need a spacer with this size....they didn't think so, but the way my Tacori tilts and moves on the finger, I KNOW it will get damaged.....so suggestions, if there are any spacers that aren't just standard 1mm...for the future....
I had a 2mm to try on, but it really changed the look and I didn't care for it...will a 1mm be enough for protection?
pics on the way...