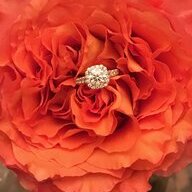 Joined

Mar 13, 2017
Messages

121
Hi All,
I've posted quite a few posts in the last few years about my issues with my original engagement stone bought back in 2015 from a local vendor. At the time everything was rushed as we were trying to get married while my grandmother was in the hospital and my family was very tied up with that situation. As so many before me have said, that was back before I knew of pricescope and of course looking back I knew I was not happy but only later learned why. My original stone was a EGL USA Ideal cut 1.50 G SI2 that had an inclusion that later on drove me crazy. So for almost 3 years now I have debated my options and a lot of you were so helpful in talking with me about each option (upgrading specs, recutting my stone, trading in with my original vendor vs going to a pricescope vendor, etc). As an aside I did follow up with my original vendor but after some less than transparent interactions and weird behavior I decided that route was not worth it and after realizing very slowly (my husband had been telling me this for a while) that I really wanted to work with a pricescope vendor and having had such a good experience with
IDJ
the year before I really just wanted to work with Yekutiel. I am lucky that my husband has been so supportive and patient in listening to be wax poetic about diamonds and my issues and hopes and dreams. The same goes for my family! Being able to have information, ask questions and have a sounding board in pricescope is so invaluable and being able to work with a vendor who is knowledgeable, works with you and you can trust is equally priceless. I realized that all that was just as much a part of the buying process for me as the stone itself. After visiting
IDJ
last year and finally being in a place to upgrade this year I was in a position to take action!
My experience at
IDJ
and Yekutiel was even better than the last! We decided pretty quickly on a price point and Yekutiel worked hard an was able to find us a stone knowing that it was going to be tough to get a GIA certed stone in the same size range but with better specs for the price we were in. He did it anyway! And I have to say I really appreciate now and more than ever how a better cut can really make that diamond look so much bigger. I was able to slowly walk through all the light performance information, and have all my questions answered (definitely more than once!). I spent sometime looking at settings and in the end I realized I was not ready to give my setting up and Yekutiel was able to set the new stone in my old setting and he even made changes to that setting that I definitely did not realize I wanted. He rebuilt the prongs into the extremely delicate claw prongs and it was ready the same day for us to see before we left New York. This thing is perfectly round and looks so much larger than my other stone. I was a little nervous about going SI2 but it is definitely eye clean and I have unfortunately really good eye sight!
The new RB specs:
GIA RB
7.42-7.44x4.52mm
Color: G
Clarity: SI2 (eye clean)
Cut: Excellent
Polish: Excellent
Symmetry: Excellent
Fluorescence: None
Depth: 60.8%
Table: 56%
Crown Angle: 34.00
Pavillion Angle: 40.6
So a very large thank you to everyone who helped, provided me knowledge and pointed me in this direction of
IDJ
, probably/definitely patiently answered my same questions more than once! (
@Queenie60
@sledge
@SimoneDi
@tyty333
@ILikeShiny
@ac117
@PintoBean
@diamondseeker2006
@Lorelei
and anyone else I forgot!) An obvious and very large thank you to Yekutiel. Because of everyone I walked away really happy AND with peace of mind.
TL;DR: Bought a not so great diamond when grandmother was sick and trying to plan wedding in that time. Inclusion drove me nuts, wanted to upgrade, after back and forth and probably repetitive PS threads! I settled on upgrade, loved working with
IDJ
and its so beautiful.
P.S. I feel like I passed a pricescope milestone by finally getting why the heck there are soooo many ring in flower photos; that stuff is hard you guys! So I'm including some beautiful photos of my ring with my birthday flowers that my family bought me here as well (these are the best photos for now, husband bought a tripod and is now super into helping with ring photos but we had to delay that for now):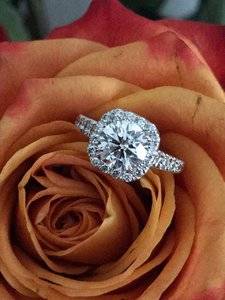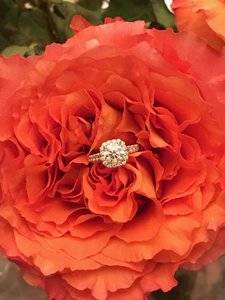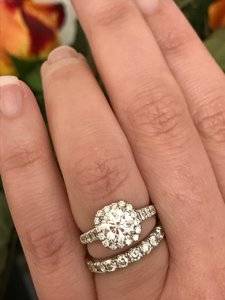 I already have future plans to make some changes to my setting but for right now I am just enjoying the peace of mind and how much it shines.
Last edited: