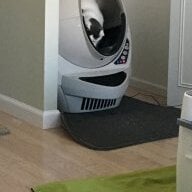 Joined

Jul 27, 2011
Messages

6,583
tyty333|1456158561|3993997 said:

Purty! It does look huge on you...much bigger than I would expect a 7ish stone to look. Do you have a picture of the gallery?

I'd love to see a picture. I have a 6.3mm stone that needs to be set. Not sure what to do with...ring, pendant, ring, pendant...

I may have to flip a coin!
tyty333

I love that you asked for gallery pics!!
The first few pics (black velvet) were taken at night, and I just struggled with the indoor lighting - yellow yellow yellow. The next batch were taken yesterday during the day time, with the goal of getting in some neck shots to show the real life perspective. When I was done uploading them, I went, "doh! I forgot side views and "booty" shots!"

I figured, eh, no rush, a good PSer will ask for some

!!!
***Adding a disclaimer - I'm taking pictures with an iPhone 5c and a cheapie Arrow brand clip on macro lens, so it's hit or miss with the pics, but I think they give a good idea of what the pendant is like, and the fine workmanship of
IDJ
's bench. the stone faces up white in real life for sure. It's just a very lively stone and always on - dancing and working it in all forms of natural and artificial light. The bezel is perfectly circular, but sometimes appears off round because of the angles I'm taking the pics from - it's a juggling act of holding a pendant, the phone, and catching it just right so that there is light, and the iphone focuses on the stone.

More pictures below!!!