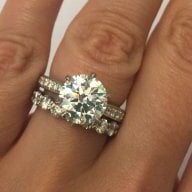 Joined

Apr 28, 2014
Messages

4,013
Hi everyone!! Since finding Pricescope a while back and reading all of the threads and realizing that I'm not the only crazy person in this world who loves but scrutinizes my diamonds. At that same moment, I also realized that there were numerous things about my wedding band that really, really bothered me but that I was living with because I thought I was too picky or imagining it. Not only that, but I also started noticing that my former u-prong wedding band was starting to eat into the prongs of my e-ring! So with the go ahead from DH (who thankfully understands how crazy I am), I walked over to
IDJ
to discuss my options (dangerous they are close to my office)! It was my first time and I wasn't sure what to expect but Tami started helping me and she was super understanding and her and Israel confirmed my suspicions about my original wedding band (only 1 of the 9 stones were excellent cut, they were different dimensions, ring was too wide, prong were bulky and blobbish, one of the stones was set noticeably lower, and one of the stones was loose).
Tami helped me decide that a shared prong would be better for me since it would sit lower and she gave me a very reasonable quote for pricescope quality 9 stone band in platinum . I talked it over that night with my husband and he was impressed and agreed I should do it and I stayed up that night reading thread after thread on shared prong setting to make sure I would get it right! The next day I put in my order stressing the fact that I wanted to see the arrows, along with numerous additional requests and I just picked it up last Friday but was preoccupied at a wedding out of town this past weekend so I wanted to finally share!!
I only have iphone pictures for now that don't do her justice (bc I still don't know how to take good pictures with our dslr)…but here she is 1.14 ctw along with my 1.81 mrb e-ring…size 6.75 and e-ring is a size 7. The first picture shows my original wedding band on top (you could see how dull and lifeless the stones look) and the new one on the bottom. You'll also see how the new band wraps and curved nicely around my finger while the other one was too wide. I couldn't manage to capture the arrows in pictures but I can definitely see them in person and with my loupe!
I'd like to give a HUGE thank you to Israel, Tami and Yekutiel for making me such a gorgeous band. It sparkles like mad in all lighting makes me so happy each time I look at it! They are such wonderful people, such a pleasure to work with and I can't wait for my next purchase!