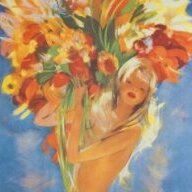 Joined

Mar 25, 2009
Messages

7
Hi all, I am new here and wondering if you can help me with something. I''m in the market for an "ideal cut" diamond and have been doing lots of research on various sites.
One thing I am not so certain on is painting and digging. Does the ASET image always give a clear indication as whether a stone has a painted or dug out girdle?
I feel pretty confident identifying a dug out girdle, but am not so sure about painted. Will it always have the green eight-pointed star pattern as shown below? If the pictures differ, can anyone else post an image of a painted girdle?
Many thanks in advance,
Torry