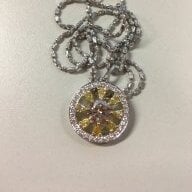 Joined

Feb 8, 2011
Messages

302
Hello fellow CS enthusiasts

Ever since I found PS, my interest on CS has increased tremendously and I started buying some from the various vendors mentioned here
It is time I set some of the stones I have purchased, otherwise there are only kept in the box hidden in my drawer

Coincidently, there was a jewelry show in town this weekend and I bought some loose diamond melee to use them as side stones. I spent about an hour picking from the lot they had on display. They are rather tiny, but for $280/ct I guess I shouldn't expect too much.
So, back to my first CS project. I have a small round sapphire (0.7ct) cut by Bob Kast and an oval native cut sapphire (1.6ct) from Mastercut Gems that I am considering to set into a ring. The size difference can be seen below.
As I have a size 7 finger, the coverage as you can see is rather minimal
Guess my limited budget doesn't allow me to go for a bigger blue sapphire.....
Anyway, I am thinking of using some diamond melee I have purchased as side stones to 'fill up' finger coverage
.
Please let me know which combination is better and why.
My dilemma:
1. Should I set the round sapphire or the oval one?
2. If round, should I just have the pear diamonds as sides or both pear and round?
3. If oval, should I set N-S with round and pear diamond sides or E-W with just the pear sides?
Pictures are as below:
Thank you!!