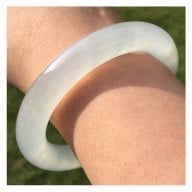 Joined

May 1, 2009
Messages

6,060
I'll admit that nothing gets my heart pumping faster than when one of us shares a new ruby. I guess that should tell me something about which is my favorite gemstone! Again, your new addition is glorious. I can't wait to see what you ultimately do with it!
I'm a little late to the party here, but I vote, hands down, for this 7-stone design with the traps and epaulettes!! Gorgeous stone!

P.S. My second choice would be a 3-stone design with the traps or even a 5-stone.

Just not feeling the rounds with this elongated cushion. How exciting for you (and us)!!
Thank you! I admit that blue sapphires are more my thing but I think this one is special. I don't usually think of my collection as heirlooms but this ruby qualifies I think.
The local lab thinks that the ruby is a nice color too! Woot. I asked my jeweler to send in to Nanyang lab and Mr Zeng has certed as Vivid Red as well. Yes it already has a GRS cert but GRS can be rather lax on color sometimes and I do trust my eye but it just feels better to get the local lab cert too.
I shall play with the possible configurations once I get it back. So excited.