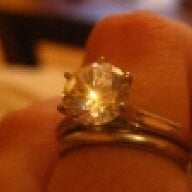 Joined

Feb 13, 2009
Messages

527
well I thought it was time that I got up the courage to come out from just lurking around and drooling over everyones gorgeous jewelry pieces now that me and my husband have almost made it to the end of the road of buying our first really nice diamond. I really didn''t know were to go to here to introduce myself so I thought I would do a small introduction here in the hangout area!
So here goes............ I''m SparlkeNut, been married for almost 8 years to a wonderful man. No kids as of yet, but we will start trying as soon as our house is done from being built, so around this time next year we hope to be expecting! I have 5 dogs that are my babies at this moment and they are all a handful.
I found this forum just by starting my search for a stunning diamond about a year ago. I had got so fed up with going into jewelry stores and all the ladies would act like their diamonds and jewelry were the best when it come to cut clarity, you know the whole nine yards that just ended up being a milky or heavily included chunck of something they were trying to pass off as a diamond. This almost made me give up, until my Sister In Law got engaged and her future husband found her diamond at
Blue Nile
, and that''s when I knew they are good diamonds out there! And that''s when I googled and found Pricescope. So ever since everyday I''m lurking the forums and looking at all the stunning pieces. So now the wait for my ring to come starts since my husband wants to surprise me with it.
I have went on enough, hope that I didn''t put anyone to sleep, but I just wanted to let everyone know who I was and how I found this amazing forum. I hope to learn so much here and make some great friends that love the same things I do, So I hope I become a frequent poster and hope no one minds me drooling over their amazing collections.
~ SparkleNut ~