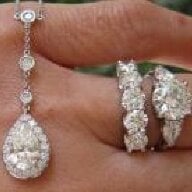 Joined

Jun 16, 2009
Messages

1,062
FInally, My ring is ready to be shipped to me. The jeweler sent me photos. When I saw the profile photo, I wanted to cry. The setting is not graceful looking at all. What attracted me most about the Vatche Royal Crown setting are its gracefule curves/lines. I saw many photos of the setting from various websites (
BGD
,
WF
, and Vatche), and they all look great. My setting was made by Vatche, but it looks very different. The shanks do not curve in towards the stone, the center curve is more like straight line triangle than curvy waves, and the tip of the center curve does not extend high enough. Instead of being graceful looking, my setting appears awkward. Am I the only one thinking this way? Does my ring look good to you?
I am very sad and do not know what to do. My jeweler ordered the setting directly from Vatche. Don't know if the setting can be fixed to my satisfaction. Am I stuck with it?
First, a photo of the Vatche ring with which I fell in love.