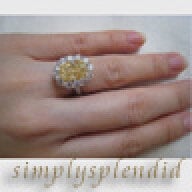 Joined

Nov 19, 2006
Messages

1,772
I haven''t been on Pricescope for a number of days and I saw that there have been several discussions re: GIA vs AGS. As a consumer frequently buying diamond jewelry (at least once a month!), since both of these labs have rather strict standards themselves, I am comfortable buying from either labs. I don''t think anyone can say that a diamond is not better than another just because it was graded by GIA and vice versa. To me as a diamond lover, any diamond that falls within the specs of being ideal and looks great is great! I think any comments that imply that no one can claim that a diamond is ideal simply because it is not AGS graded ideal should be avoided.
I''m sorry and I may get stoned for this, but as a consumer and general jewelry lover, sometimes I just don''t see small visual differences between a 0.1 degree in the crown angle or a 1% difference in the percentages

. There may be a difference in the measuring instruments, technology and guidelines used between labs that generate some differences, but it may not be noticeable to many consumers. I think consumers like myself will probably do fine as long as I check my purchases with my
idealscope
and aset and the HCA! -- Just my 2 cents..
(Heh, I bought myself a OEC last month with an EGL cert with Good for polish and Good to Fair for symmetry and I LOVE THAT FIREBALL!)