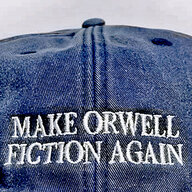 Joined

Apr 30, 2005
Messages

27,744
All restaurants in California are supposed to be closed, except for take out, which I think is called carry out in Britain.

But take out involves more people handling your food than if you prepared it yourself.
Plus, with many of us off work, or working from home, we have more free time than before.
Let's use it to cook healthier foods, which is often a time-consuming thing.

When it comes to food prep, the more you do yourself the more you can control everything and be careful.
Plus, cooking your own food eliminates yet another potential virus incubator from your food chain who's unaware that (s)he is also delivering CV-19, ... the delivery person.

Supporting our restaurants surely "sounds" altruistic, but further reducing the odds of my family NOT getting CV-19 sounds even nicer.
Altruism to one's self? ... hmmmmmm.

All things being equal everyone has the same odds of getting infected but some groups are more likely to die than others.
I'm in 4 or 5 groups that increases the chances I'll die if I get it.
I'm old and have a few medical conditions on that list that greatly raises my risk of death.

I'm truly sorry restaurants are going bankrupt, but I value my life more than someone's business.
In this situation, it's them or me; I choose me.

Let the youngest people with no medical conditions support the restaurants.
Last edited: