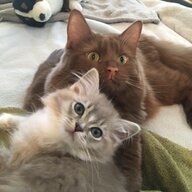 Joined

Jul 12, 2015
Messages

760
So after a lot of patience and months of searching I think I finally found my forever stone for my first (and last!) MRB pendant. I have never had the privilege of owning a Whiteflash ACA, but after reading so many rave reviews about them from many of you I decided to give it a try! I finally pulled the trigger today and will be receiving the loose stone early next week. I am planning to have BGD set in their platinum Barbara bezel setting. The stone looks amazing; it is an F VS1 (overkill, I realize, but then again it is my forever pendant!). Many thanks to everyone who has recommended Whiteflash over the years and I am also grateful to everyone who weighed in on my pendant setting dilemma recently as well. To say that I am over the moon excited would be an understatement!!
I feel really good about this selection, but I realize there are many on this board who are far more knowledgeable than I am, so if anyone sees any red flags, concerns, reservations, etc. please feel free to speak up! I have waited quite a while to find this stone, and I am certainly willing to wait a bit longer if this is not it!
Here are the stats:
DIAMOND SPECIFICATIONS
Depth % 61.9
Table % 55.8
Crown Angle 34.2
Star 52.0
Pavilion Angle 40.9
Crown % 15.1
Lower Girdle % 77.0
Many thanks again, everyone!!