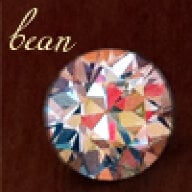 Joined

Mar 23, 2008
Messages

5,384
I am so very excited. I tend to buy stones and then let them sit there and collect dust. A bit back I bought a .91 OEC (ebay) that is a light yellowish and loved it sooooooooooooooo much that I just wanted it set ASAP!
I have a lot of rings and a few years back I had a very small (.25ct) diamond pendant that was "lost" (stolen, actually, but I have no proof). I miss bling on my neck. So I contacted Daniel M (& Caren) and have mailed my diamonds yesterday. Yep.. diamonds.. I also sent them a smaller (.30-.40ish) whiter OEC to also place into the pendant. I did a mock-up if what I'm thinking and wanted to share with everyone.
I suppose the main thing is that I don't want the darn thing to flip constantly....
It will be 14k wg and 14k yg (bezel) with a 19" chain.
ETA: I forgot to mention that I think the connector will be different though.. or I might just take it out and have the two bezels on top of each other??
Thoughts?
Here is my illustrator mock-up: