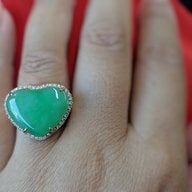 Joined

May 17, 2014
Messages

2,945
Hi Folks

I blame Pink Bandit for this. I am a green girl so for me several shades of green was fine because I am a green girl.

But now I want pink *wails*

I find myself looking at pink stones all the time and I kinda feel like if you have a few different shades of pink already, do you need to keep buying the same colour?

I LOVE my pink sapphire. It is unheated and gorgeous but now I am looking at stones that colour! It is not practical!

Anyways I kinda need you guys to justify my lusting after another pink stone by posting any pics of you owning the same colours again and again!

HELP MEEEEEEEEEE!!!!!!!
Last edited: