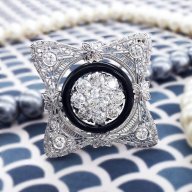 Joined

Oct 4, 2013
Messages

296
I got an awesome suite from a dear PSer Colorluvr, and another tiny suite.
I have ideas but I keepon not being able to stay on target.
Description
Pear - 5.93ct - 13 x 8.7 x 7 very included but the cut and color are yummy.
Roval - 3.71ct - 9 x 8.1 x 6.3 (a Jerry Newman recut)
Oval - 2.22ct - 7.89 x 6.66
Oval - 2.37 ct - 8.16 x 6.92 both ovals recut by Dan Stair.
Then that suite Spessartine Garnet Set (4 Stones)
Weight: 0.38 tcw.
Size: 2.8, 3.0, 3.2, 3.5 mm.
Color: Bright Orange
Clarity: VVS
Cut: Rounds
Locality: Nigeria
Treatment: None
from Allyce K.
Hopefully they will match enough that I can have a pendant made with the pear bigger round on top smaller near the point of the pear is my idea.