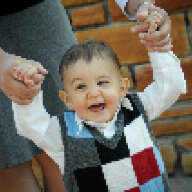 Joined

Jan 20, 2009
Messages

228
I have noticed many posters here have custom rings done or have worked with some jewelers to make their dream ring.
I would love to get some ideas. I currently have a .52 RB, H-SI1 with a wrap of 2-.25ct, both are set in 18K WG.
I have been looking up stones, and I was initially going to replace just the center stone with a .84 H&A. I think this will look stunning.
However...you all have created a dilemma for me. I am now debating on whether it would be better to just use my .52 in a new setting. If I did this, what do you think would be the best setting to really make it pop? I was thinking a halo setting, but I would love your advice. I do really want the H&A stone, I will put it in a 4 prong Tiffany style and the wrap will be soldered on.
So which would be better? Put the H&A with the wrap or use the .52 in a new setting?
It''s late and I''m somewhat rambling so I really hope this makes sense. I look forward to hearing your ideas! Thank you!