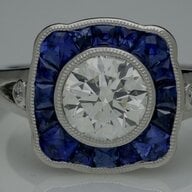 Joined

Nov 1, 2007
Messages

3,876
I don't know if I like the snow as much as I like winter. It's very peaceful here in the winter. I feed the outdoor birds starting in December and stop in May. This is my favorite part of winter. Under the canopy of a huge pine tree I spread out about 4 pounds of no mess birdseed. I also have 3 suet feeders.

The birds wait in the trees for me. As soon as I come out the door they start calling each other to tell them it's feeding time. I like the sense of community the birds have. The blue jays seem so aggressive with their fierce calls but they are actually generous. They call out to all their neighboring jays to share the food. There may be a hundred birds under the pine tree when it gets very cold.

Then we have the squirrels. They come and surround the base of the tree in a buffalo stance. My husband created a song called "The Ring of Squirrels." He takes out his guitar and sings it to the tune of Johnny Cash's song "Ring of Fire."

Last year I had a juvenile hawk eat bird seed along side the other birds. It was so unbelievable that I grabbed pictures. I think he must have been near starvation to eat bird seed.