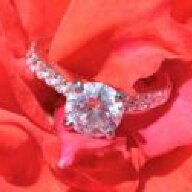 Joined

Feb 24, 2011
Messages

146
...and I can't tell anyone IRL.

First, I had a meltdown to my friend today about how I feel like BF is never going to propose and I'm losing my mind.

Second, the background info and the story...

My BF is in charge of the laundry. Always. Well, tonight, I thought I'd go out of my way to be extra nice and do his chore, which is putting away laundry. As I was putting away his boxers, I felt something peculiar in the drawer. After getting my hand around it, I realized....it was a ring box.

o - M - G. I cannot contain myself right now. He's actually bought a ring. AAAAAAHHHHH! I don't even know what to think right now. Part of me is upset that I saw (actually felt, not saw...I let it go once I realized what I was!), but then a much bigger part of me wants to SCREAM! I'm kind of in shock but super excited. Today I was seriously having a meltdown and feeling so down and like he didn't care about my LIW feelings at all and was taking his sweet time and nowhere near buying a ring and proposing. Wow, now I'm so excited...