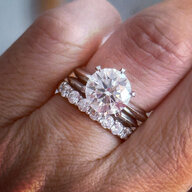 Joined

Jan 14, 2003
Messages

2,801
HI everyone,
After posting that I wasn't sure which band to get, the
Whiteflash
or the Tiffany one, I decided to take the plunge and get the Tiffany one.
Yes, it cost us more money, but I felt that I didn't want to have someone make the band and maybe having a problem with it when I got it. Of course for larger diamond purchases, I will always use
Whiteflash
. Hmmm, earrings sound nice right about now!
Here's something good that I would like to share with everyone.
The Tiffany diamonds have ARROWS! I can't believe it, but it's true. I used the H&A viewfinder and I truly see arrows. I don't know how perfect they are, but there are eight arrows in each diamond (total of 7 in the band). I tried to capture them in pictures, but I couldn't focus too well because they are so small- 8 pointers.
I know that everyone says that T&Co. is overpriced, etc. and you can get better quality somewhere else, but did anyone ever really check to see if the diamonds they sell have H&A's or did they just assume that they don't? I am really curious about this.
Anyway, I just want to thank everyone again.