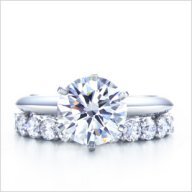 Joined

Dec 19, 2006
Messages

46
So for those of you who may not be aware...I got engaged in November 2006 in Melbourne, Australia and had my ring made my friends of our in Hong Kong (where I was born and raised). So! I had to wait three months, till my mom came down for my engagement party to have my ring (as she was going to bring it down for me - I felt it safer doing it this way the courier)
So my beautiful Fiance met my mom when she arrived yesterday and my sisters place and picked up the ring.
By the time I got home from work..........and I was bursting at the seams at this point........he called me into the kitchen, he had bought me the Largest bunch of flowers ever, had a bottle of Moet opened with two glasses poured, and this AMAZING ring sitting there in its beautiful box!!
So I know FINALLY have the pictuers for you to view!!!!